Get ready for Making Tax Digital – in seconds
1 Click Accounts simply tacks onto your existing software.
There's nothing to install, no complex user interface, just a simple VAT return form that lets you submit your VAT returns with Making Tax Digital.
And that's it. Simple.
Built for accountants and businesses that already have bookkeeping software, you can keep using your old software – and just submit your figures.
Ready for MTD
File VAT returns with Making Tax Digital – in just seconds
No need to migrate
Keep using your old software; just file VAT returns with us
Secure submissions
Your VAT returns are encrypted with military-grade technology
Keep costs minimal
We offer a simple service, and charge almost nothing
Everything you need to get ready for Making Tax Digital
Are you looking for a way to keep your existing software, and just submit VAT returns with Making Tax Digital?
If so, you need 1 Click Accounts.
You'll be able to keep your old software, and simply submit VAT returns using 1 Click Accounts.
At the end of each VAT period, simply log into 1 Click Accounts, import your figures, and click submit.
We'll handle the Making Tax Digital side of things, so you can keep using your old software. You won't need to migrate to new software, learn a new platform, or move your clients to a new system.
The new digital tax initiative at HMRC will mean you can submit VAT returns, check past submissions, view a history of past payments, and outstanding liabilities – all from one single location.
Not only that, but you'll find charts of past submissions, along with breakdowns of EU / UK sales and purchases – which you can download and use in your own client reports.
We're here to help you look great. And if there's any way we can further enhance the reporting side of things, just let us know!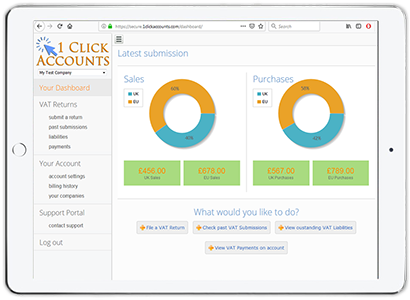 Making Tax Digital Software at a ridiculously low cost
1 Click Accounts costs next-to-nothing.
It's such simple software that our costs are very, very low. 
And those savings are passed entirely on to you.
The software costs just £1 per submission* (yes correct … one pound)
There's no minimum usage clause. There's no contract. Just pay as you go, at a simple price.
* pricing correct at time of publication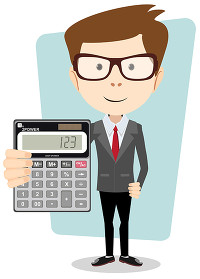 Let me show you how it works